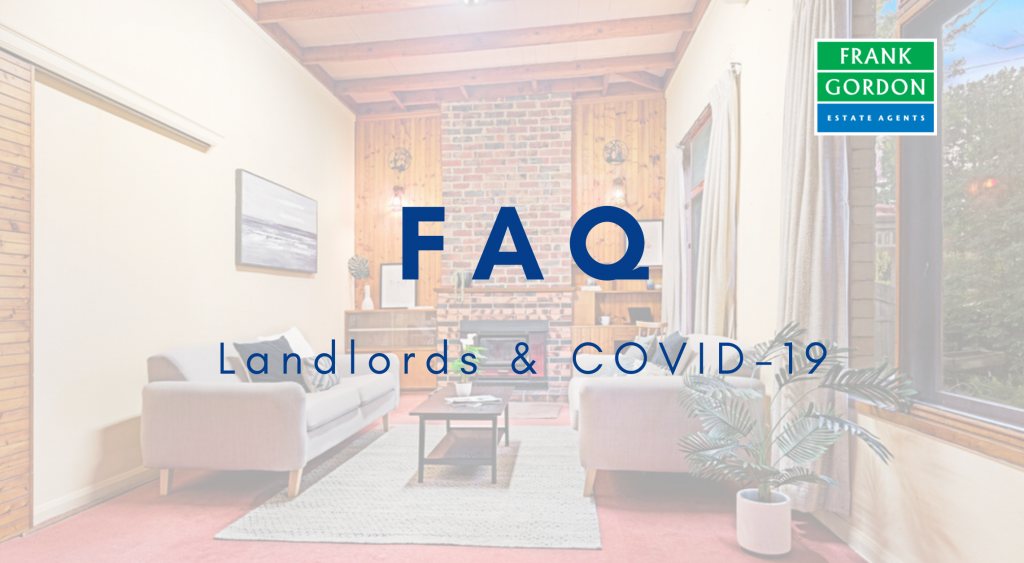 Date: 08 April 2020
Updated: 20 April 2020
Here at Frank Gordon, community is at the core of what we do. We are here to support you during this time and if you have any questions, please do not hesitate to get in touch.

We understand that things are moving quickly, so to help our landlords keep up to date with the latest Coronavirus information we have put together a series of frequently asked questions for your reference.
Are you still open and how do I speak to you?
Frank Gordon remains open with social distancing in the office in place. You can still call us on 9645 2411 as usual. Otherwise you can still contact your Property Manager at any time by calling their mobile number, or via email.
Are routine inspections still occurring?
We have suspended all face-to-face routine inspections in line with the current social distancing practices. These will be re-booked once the restrictions are lifted. Should you have a specific issue with this in regards to your property please contact us and we will seek to conduct a interim virtual inspection of the property.
What about maintenance?
There is currently no restrictions on tradespeople entering property provided they follow the social distancing guidelines. This means if there is any maintenance required, and particularly urgent repairs, we can still arrange for the relevant tradespeople to attend the property. We envision longer than average delays in getting tradespeople to the property so please do get in touch as early as possible with a request. If the maintenance is not urgent your tenant may request we hold off until social distancing practices are lifted in which case we will be in touch.
What if my tenant can't pay rent due to COVID-19?
The residing messaging for landlords and tenants is that we need to work together, support each other and negotiate a personal arrangement to get us through the next six months. Every situation is unique, and your property managers are here to help. We are here to act as a conduit between you and your tenants, helping to reach a common ground between all parties.

The Federal Government announced that there should be a suspension on rental evictions for people who are facing financial distress as a result of the Coronavirus. This is yet to be ratified by the State Government but is expected soon. This provides a measure of security for those who have been adversely affected and are concerned about the implications of being able to keep residing in their rental home.
What is the process for these tenants?
In terms of process, our tenants have been getting in touch directly when they predict economic difficulty. In the first instance they are guided to the available options in the various Government assistance packages outlined here: https://moneysmart.gov.au/.

If these measures are not enough they may complete an official COVID19 Residential Tenant Payment Assistance Request Form provided from the

REIV

which provides specific details about their situation as well as their request to either reduce or defer their rental payments.
Between our tenants, landlords, and often our landlords mortgage lender, we have been able to come to an agreement of reduced, or in some cases, frozen rent payments.
Do I have any protection in the event my tenant is unable to pay rent?
In most instances a valid landlords insurance policy provides some cover if the tenant defaults on their rent. However these claims require the tenancy to be terminated before you can make a claim and insurers won't pay rent whilst the tenancy is ongoing. So far it appears that any agreement that you reach with your tenant to reduce or defer rent won't be claimable. We recommend reviewing your insurer's website and PDS for more information on this.
What about support from the government?
An $80 million rental assistance fund has been established to provide rent relief

payments of up to $2,000 to Victorians experiencing rental hardship due to Covid-19.
What is the Rental Relief Package and do I qualify?
The rental relief package provides rent relief payments of up to $2,000 to Victorians experiencing rental hardship due to Coronavirus. The grant is paid directly to the tenant's agent, lessor or landlord to contribute to the tenant's rental payments.

To be eligible,
Household income must be less $100,000 per annum.
The tenant is paying more than 30% of their income in rent and has limited savings (less than $5,000) or access to other support. Please note this 30% test applies before any rental reduction has been made.
The tenant must have, or will soon have, a bond registered with the Victorian RTBA. All Frank Gordon properties have a registered bond with the RTBA.

Most importantly, the tenant must have spoken to their agent and come to an revised rental agreement (either through mutual agreement or mediation) which has been registered with Consumer Affairs Victoria.

To find out if you are eligible to receive this payment, speak to your property manager either via email or by calling us on 9645 2411.

Is there a citizenship requirement for the rent relief package?

There are no citizenship or permanent residency requirements for applicants. Applicants that may be eligible include casual workers on holiday and working visas, skilled visas, seasonal workers, New Zealand citizens and all refugee and temporary protection visa holders.

Does this count for a share house or multi-lease property?  

Yes. If your tenant is one of the lease holders in your home and meets the eligibility criteria they may qualify for a grant that represents their portion of the rent.
What about if I need a new tenant?
 Housing is an essential service and we are continuing to successfully lease property in the current climate. Should you want  to discuss how we can lease your property in the current climate please don't hesitate to get in touch with us on 9645 2411.

All residential properties listed with Frank Gordon between 1st March – 30th June that need additional time to sell/lease due to COVID-19 are eligible to be extended on REA, Domain and our website at no cost to you. Plus any property listed during this time that needs to be withdrawn is eligible to be re-listed with our agency and uploaded the above portals at no cost to you when re-listed within 6 months.
How do inspections work?
We have adapted our practices and are holding private inspections for properties for lease. All parties must comply with social distancing rules (including a 1.5 metre distance between people) and we have hygiene protocols in place to mitigate the risk of the virus being spread including (a) hand sanitiser prior to entering the property and (b) strict entry restrictions signed on the property and (c) we request that prospective tenants avoid touching shared surfaces including benches and handles.
Related Reading:
Rent Relief Package:  https://www.housing.vic.gov.au/help-renting/rentrelief 
Tenant FAQ's:  https://www.frankgordon.com.au/news/coronavirus-tenant-info/
Property Market: https://www.frankgordon.com.au/news/covid-and-the-property-market/
Adapting to Covid: https://www.frankgordon.com.au/community/covid19_practices/
Please Note:
We endeavour to provide regular updates on COVID-19 and how this is affecting property. This means we need to operate at speed, often speaking to you while waiting for further announcements and clarifications from the government and other third parties. Information in this article is correct as of the date of publication and is subject to change.
The information and any advice contained in this article is of a general nature only and does not take into account the objectives, financial situation or needs of any particular person. Therefore, before making any decision, you should consider the appropriateness of the advice with regard to those matters.