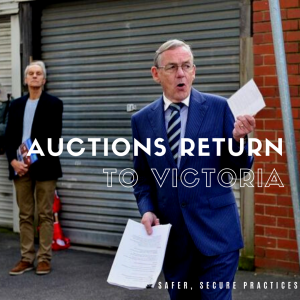 12 May 2020
In breaking news,  auctions are back in Victoria from Wednesday 13th May.
Auctions will be limited to 10 registered bidders which means the onus will be on buyers to do their due diligence prior to auction and really consider whether this is the property for them.
What does this mean for sellers?
Auctions are the most popular sale method in the Bayside area and Port Melbourne. A great way of achieving a competitive sale with multiple buyers in a defined time frame. This is fantastic news for those with properties of mass-appeal (Think modern townhouse, large land size, single and double fronted Victorians) as well as those who have pre-determined timelines such as upsizers and downsizers.
Public Auctions are not the only way of achieving a great sale price and the last few weeks have been testament to that with three properties sold in just three weeks. 65 Alfred Street, Port Melbourne and 23A/200 Bay Street, Port Melbourne* were both sold via Expression of Interest, and 138 Munro Street, Port Melbourne sold off-market in just 10 days.
Auctions returning meaning we have another sale method to consider consider in our strategy. We will continue to tailor sales strategy, including the method of sale, to each property, but it sure is a relief that auctions are back on the table!
What does this mean for buyers?
That last few months have been frustrating for buyers as the volume of new listings has significantly decreased leading to increased competition on very few properties. Auctions returning is sure to be a relief to buyers as we hope this inspires more confidence in vendors putting their property on the market.
At present there will only be 10 pre-registered buyers allowed at auctions so working closely with your local agent is more important than ever. If you are a motivated buyer we recommend getting in touch with us at info@frankgordon.com.au with your preferences (bedrooms, area, price) so that we can keep you top of mind.
For more information on Frank Gordon's selling experience go here
For more information on auctions returning, view Domain
Disclaimer: Information is correct at time of publishing but is subject to continued updates.*23A/200 Bay Street, Port Melbourne is under contract, information is correct at time of publishing.