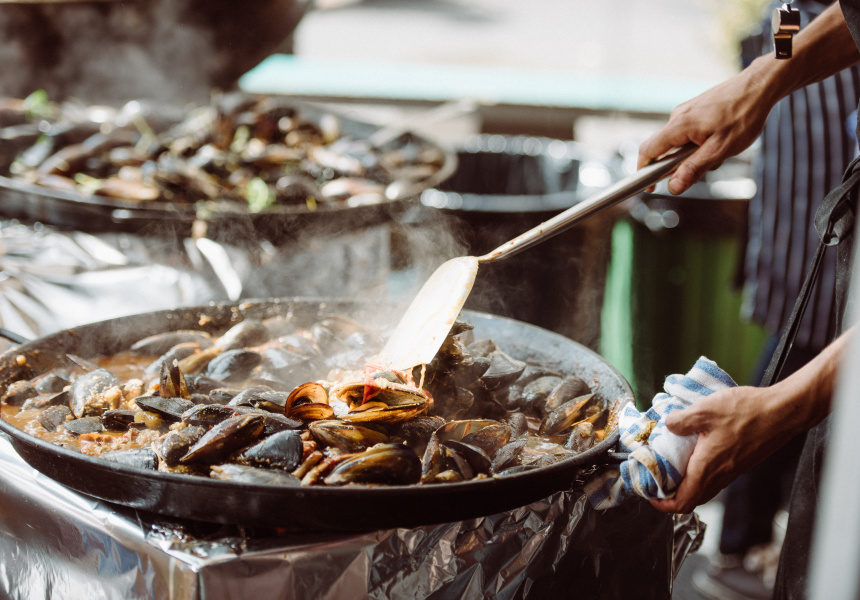 When: Sat 7th March, 2020 – Sun 8th March, 2020
Where: South Melbourne Market, Cecil Street, South Melbourne
What: Port Phillip Mussels & Jazz Festival
Price: Free
This week the sweet smells of sizzling seafood and the sound of smooth jazz will once again take over The South Melbourne Market. Now in it's sixth year, the market will welcome an estimated six tonnes of mussels!
South Melbourne institutions Claypots, Simply Spanish, Bambu, Paco y Lola and Koy will all be preparing dishes, as will a number of guest chefs from all over Melbourne!
The festival will be recycling mussel shells in partnership with The Nature Conservancy's Shuck Don't Chuck Program. It collects and cured mussel, oyster and scallop shells and uses them to rebuild reefs and ecosystems in Port Phillip Bay.
Dishes we are looking forward to include;
Aptus's Half Lobster Mornay,
Frencheese Raclette Fondue served on top of sauteed potatoes, cured meat and salad
Paco Y Lola's BBQ'd Squid and,
Simply Spanishes Mediterranean Mussels.
For more information see: https://southmelbournemarket.com.au/mussel-festival/
Image: Courtesy of the festival, Simon Shiff, Broadsheet and Weekend Notes